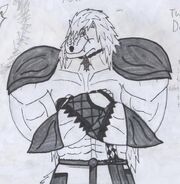 Twilight Dantas is one of the most powerful deities, next to God Almighty and Darth Kraynos, and is the second Primary Deuteragonist in the FOD universe, next to Darth Kraynos.
Species: Deity of Twilight, Wolfian God
Gender: Male
Age: Unknown (40s)
Partner: Darth Kraynos
Affiliation:
Occupation:
Appearance
Edit
Personality
Edit
Powers & Abilities
Edit
D
Incalculable Strength:
Incalculable Speed:
Incalculable Agility:
Reflexes:
Flexibility:
Endurance:
Durability:
Incalculable Awareness:
Twilight Cerunga:
Master Hand-to-Hand Combatant:
Master Swordsmanship Specialist:
Master Marksmanship Specialist:
Master Strategist & Tactition:
Wolfian God Form

Edit
D
Strength:
Endurance:
Durability:
Twilight Cerunga:
Senses:
Beams of Twilight:
Twilight Shield:
Twilight Teleportation:
Ultimate Attacks/Finishers
Edit
D
Twilight Mass Explosion:
Twilight Cerunga (Full-Power):
T
Family & Relatives
Edit
Relationships
Edit
Zack Xargus
Edit
Darth Kraynos
Edit
Helena Xargus
Edit
Alexander Xargus
Edit
Eileen Xargus
Edit
Viloura Xargus
Edit
God Almighty
Edit
Karnik Xen
Edit
Lucian Xen
Edit
Ad blocker interference detected!
Wikia is a free-to-use site that makes money from advertising. We have a modified experience for viewers using ad blockers

Wikia is not accessible if you've made further modifications. Remove the custom ad blocker rule(s) and the page will load as expected.