The Devil, otherwise known as the fiend, satan, etc., is the ruler of Hell and is one of the Antagonists within the storyline.
Role: Antagonist
Alignment: Dark, Evil
Appearance
Edit
Personality
Edit
Powers & Abilities
Edit
The Devil
Strength:
Speed:
Endurance:
Regeneration:
Fiend Form
Edit
The
Lucifer Form
Edit
The
Beelzebub Form
Edit
The
Dragon/Leviathan Form
Edit
The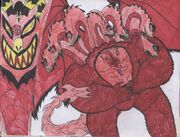 Relationships
Edit
Ad blocker interference detected!
Wikia is a free-to-use site that makes money from advertising. We have a modified experience for viewers using ad blockers

Wikia is not accessible if you've made further modifications. Remove the custom ad blocker rule(s) and the page will load as expected.