Michael Xargus



Alias:

MS-6, The Crimson Avenger, Blood Warrior

Species:

Human; Alpha Omega Wolfian/Sith'arian hybrid (formerly Android)

Gender:

Male

Age:

10 (Biologically 26-27)

Height:

6'4 ft

Weight:

250 pds

Affiliation:

Occupation:

Leader of the Created Siblings

Martial Status:

Married

Status:

Active
Michael Xargus is the hero and second Primary Protagonist in the storyline.
Appearance
Edit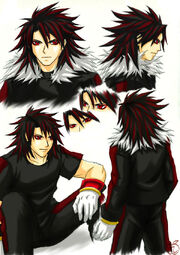 Black-spiky hair with red shrieks. Red eyes. light skin. well-built and musculer.
Personality
Edit
Personality-wise, Michael is calm, cool, stubborn, and tends to save lives from all dangers, mostly women.
The Untold Story Arc (Bonus 1)
Edit
The Sword of Destiny Arc
Edit
Dark Evolution Arc
Edit
The Revelation Arc
Edit
Bonding Journies Arc (Bonus 2)
Edit
The Great Droid War Arc
Edit
Battle of the Gods Arc
Edit
Shattered Memories Arc
Edit
Rings of Naught Arc
Edit
Resurrection of Evil Arc
Edit
Dualing Championship Arc
Edit
The Final War Arc
Edit
Powers & Abilities
Edit
Michael
Vast Strength:
Vast Endurance:
Vast Durability:
Vast Speed:
Vast Power Level:
Master Swordsmanship Specialist:
Master Hand-to-Hand Combatant:
Master Marksmanshsip Specialist:
Alpha Omega Wolfianfication/Sith'arianfication
Edit
M
Enhanced Strength:
Enhanced Speed:
Enhanced Endurance:
Enhanced Durability:
Enhanced Cerunga:
Ultimate Attacks/Finishers
Edit
Family & Relatives
Edit
Relationships
Edit
Zack Xargus
Edit
Nathan Xargus
Edit
Orian Xargus
Edit
Valka Xargus
Edit
Suka Xargus
Edit
Michael had a bit of arguements with Mira in the past, but soon enough came to terms with her company. As the series progresses, he begins to develope feelings for her, despite that he was an android. However, Mira accepted him nonetheless. He and Mira are married at the end of the series, and have two children: Mike and Michelle.
Basically, Michael holds a great deal of hatred towards G0-T0 since the Great Droid War incident.
"You're pissing me off."
(to Death Scar) "Nice blades. (sticks the middle claw)"
"You don't have to be real to feel anything, you can just be you. That's all."
"If I were you, I'd not underestimate me."
"I'm mostly a weapons user, but I can cause a lot of damage with these fists of mine."