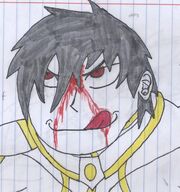 "Compared to fighting by father, mother, and my older brother, this'll be a piece of cake!"

Jacob Xargus
Age: 16
Species: Human/Sith'arian God hybrid
Role: Deuteragonist
Alignment: Dark/Light, Good
Affiliation: Sith'aria
Occupation: 2nd Prince of Sith'aria
Allies:
Enemies:
Appearance
Edit
He looks exactly like Zack from the beginning, but has gray-colored hair, with a few bangs passing in between his eyes. slim but muscular. Red eyes. and wears an attire mostly of white with yellow designs.
Personality
Edit
Personality-wise, Jacob is energetic, stubborn, reckless, passionate, brave, and full of charisma.
His favorite foods are Pizza and his favorite dessert is popsickles.
His hobbies include exercising and push-ups.
Powers & Abilities
Edit
J
Immense Strength:
Immense Endurance:
Immense Speed:
Master Swordsmanship Speciealist:
Master Marksmanship Specialist:
Master Hand-to-Hand Combatant:
Light/Dark Barrier:
Cerunga: His Cerunga is colored blue.
Resolve Form
Edit
Enhanced Strength:
Enhanced Endurance:
Enhanced Durability:
Instincts FormEdit
Enhanced Strength:
Enhanced Speed:
Instant Regeneration:
Ultimate Attacks/FinishersEdit
Family & Relatives
Edit
Zack Xargus: Older Brother
Diana Xargus: twin sister
Darth Kraynos: Father
Viloura Xargus: Mother
Maria Ragnos: Wife
???: Son
???: Daughter
"Compared to fighting my father, my mother, and my older brother, this'll be a piece of cake!"
What lies within Jacob's heart is Valor.