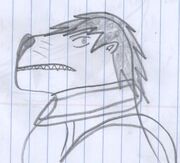 Foxxko
Real Name:
Alias: Foxxko the Joyful
Species: Alpha Foxxian/Human Hybrid
Role:
Alignment: Light, Good
Affiliation: Sith'aria
Occupation: 5th Superior, 5th Knight
Appearance
Edit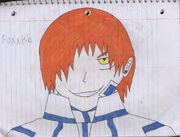 Yellow eyes. Brushed down orange hair with bangs nearly covering the right eye. White skin. Slim but muscular body. And wears an attire that is all white. He also always grin and mostly keeps his eyes slit closed. He constantly wears an accessary on his lower left jaw that people mistake as a bandage.
Personality
Edit
Personality-wise, Foxxko is charismatic, energetic, playful, sentimental, and can be very sadistic to his opponents.
The Legion of Kraynos Chronicles Arc (Bonus 3)
Edit
The Sword of Destiny Arc
Edit
Dark Evolution Arc
Edit
The Revelation Arc
Edit
Bonding Journies Arc (Bonus 2)
Edit
The Great Droid War Arc
Edit
Battle of the Gods Arc
Edit
Shattered Memories Arc
Edit
Rings of Naught Arc
Edit
Resurrection of Evil Arc
Edit
Dualing Championship Arc
Edit
The Final War Arc
Edit
Powers & Abilities
Edit
F
Immense Strength:
Immense Speed:
Immense Endurance:
Immense Durability:
Master Swordsmanship Specialist:
Master Marksmanship Specialist:
Master Hand-to-Hand Combatant:
Speed Flash Master:
Perfect Hypnosis: Foxxko's most favorite ability. Foxxko can control a target's five senses and make them perceive what he wants them to perceive.
Perfect Reversal Senses: Foxxko has the ability to reverse a target's senses from front-to-back, up-and-down, and left-to-right.
Cerunga: His cerunga is Orange.
Celestial Form
Edit
Hypno FoxxaEdit
F
Enhanced Speed:
Perfect Hypnosis (Full-Power)
Perfect Reversal Senses (Full-Power):
Ultimate Attacks/Finishers
Edit
F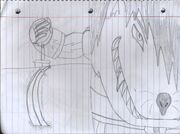 Hypnosis of Death:
Grand Cerunga:
F
Family & Relatives
Edit
Relationships
Edit
Zack Xargus
Edit
Viloura Xargus
Edit
Darth Kraynos
Edit
Kain Ragnos
Edit
Death Scar
Edit
"I do so enjoy happy endings!"
Foxxko's aspect of life, and what lies within his heart is Joy.