Aeon Xen


Vital statistics
Title
1st Superior, 1st Knight
Gender
Male
Race
Human/Alpha Wolfian hybrid
Faction
Legion of Kraynos
Health
Active
Level
80
Status
Married
Location
Sith'aria
Aeon Xen is a major character in the storyline.
Code Name(s): Wolfko The Wise, Wolfko The Lightning
Species: Human & Alpha Wolfian hybrid
Weight:
Height: 6,1
Alignment: Dark, Good
Age: 34
Affiliation: Sith'aria
Team: Knights of Sith'aria
Organization:
Occupation: 1st Superior of the Legion of Kraynos, 1st Knight  
Appearance
Edit
A. In his human form, Aeon has light skin. Long-spiky black hair. Crimson-colored eyes. And has a scar on his left eye. He also wears an attire of black clothing with red designs.
Personality
Edit
Personality-wise, Aeon is known to be Enigmatic, Sarcastic, Energetic, Kind, Compassionate, Intelligent, and very well suppotive of his friends.
Aeon's favorite food is Hot Dogs. His favorite Dessert is Ice Cream Sundaes.
Aeon hobbies happen to involve exorcising, jogging, and swimming.
A
Legion of Kraynos Cronicles Arc (Bonus 3)
Edit
A
The Sword of Destiny Arc
Edit
Dark Evolution Arc
Edit
The Revelation Arc
Edit
Bonding Journies Arc (Bonus 2)
Edit
The Great Droid War Arc
Edit
Battle of the Gods Arc
Edit
Shattered Memories Arc
Edit
Rings of Naught Arc
Edit
Resurrection of Evil Arc
Edit
Dualing Championship Arc
Edit
The Final War Arc
Edit
Powers & Abilities
Edit
W
Immense Strength:
Speed Flash Master:
Immense Senses:
Immense Speed:
Immense Endurance:
Immense Durability:
Immense Reflexes:
Immense Flexibility:
Immense Stamina:
Immense Senses:
Immense Force Power:
Regenerative Healing Factor:
Flight:
Master Tactician & Strategist:
Master Swordsmansip Specialist:
Master Marksmanship Specialist:
Master Hand-to-Hand Combatant:
Cerunga:
Chidoran:
Lightning Whip:
Lightning Shield:
Teleportation:
Dark Shielding Wings:
Lightning Manipulation:
Life Drain:
Lightning Blades:
Instincts FormEdit
A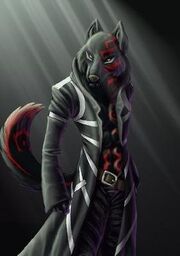 Enhanced Strength:
Enhanced Speed:
Enhanced Stamina:
Instant Regeneration:
Instincts Cerunga:
Ryukon DarkenmaruEdit
A
Enhanced Strength:
Enhanced Speed:
Enhanced Endurance:
Enhanced Durability:
Enhanced Stamina:
Grand Cerunga:
Dark Shielding Wings:
A
Dark Lightning Double-Sword:
Ultimate Attacks/Finishers
Edit
Wolfko
Bloody Chidoran:
Grand Lightning Cerunga:
Family & Relatives
Edit
W
Relationships
Edit
A
Zack Xargus
Edit
Darth Kraynos
Edit
Viloura Xargus
Edit
Lucian Xen
Edit
"To fight without having a sense of reason is not fighting."
"You are correct, I am number one."